To better manage personal and professional lives, many of us prefer to have multiple accounts. And I'm not averse to the idea of having more than one account either. It offers more flexibility to deal with certain situations and also prevents certain things from getting mixed up. While Apple doesn't offer a quick account switching toggle on iOS/iPadOS, you can still change your iCloud account with ease without losing any data. Whether it's for you to maintain multiple Apple IDs or for situations when you want to let one of your loved ones use your iOS device, you can follow some steps to get it done. If this interests you, here's a detailed guide to switch Apple ID on iPhone and iPad without losing data.
Switch iCloud Accounts on iPhone, iPad with ease
As mentioned earlier, Apple doesn't offer a straightforward way to switch Apple ID account on iPhone and iPad as it does on macOS. Hence, you have no other option but to sign out of your Apple ID and then sign back in using another account. While it may sound like a tedious affair, the whole process hardly takes a few steps.
Note: By switching we mean moving to another Apple ID on the same Apple device. You can also make changes to the existing Apple ID by editing the name, phone number, or email via the Settings app. Another option is to head to "appleid.apple.com" for the same.
How to Change Apple ID on iOS and iPadOS
Launch the Settings app on your iPhone or iPad.
2. Now, tap on your profile (aka Apple ID banner at the top).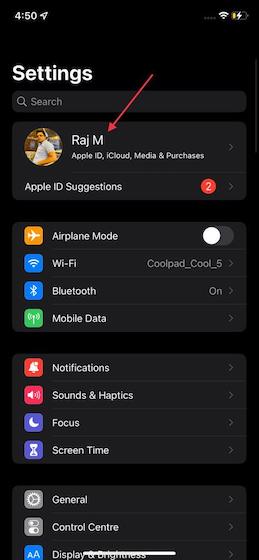 3. Next, scroll down to the bottom and hit Sign Out.
4. Here, you will be asked to enter your Apple ID password. Enter it and then tap on Turn Off in the top right corner of the screen.
5. Up next, you have the option to keep a copy of your data on this iPhone/iPad. Simply choose the data you want to keep on your iOS device. Do note that the data removed from this device will still remain on iCloud. After that, tap on Sign Out in the top right corner of the screen.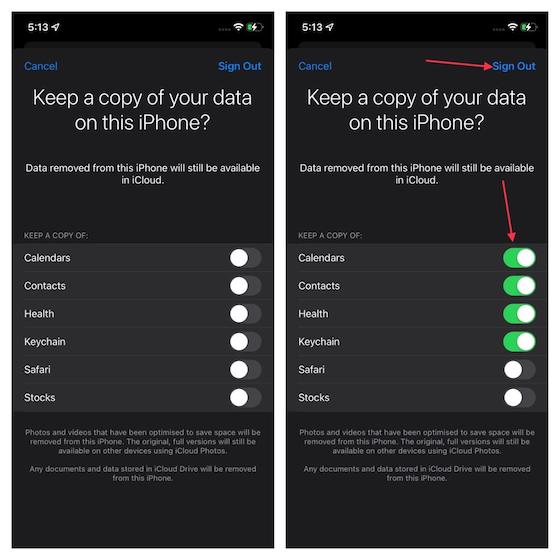 6. Now, a popup reading "Are you sure? It may take a minute to remove your iCloud data from this iPhone" may appear. Select the Sign Out option as shown below. Wait for a few seconds before you are signed out.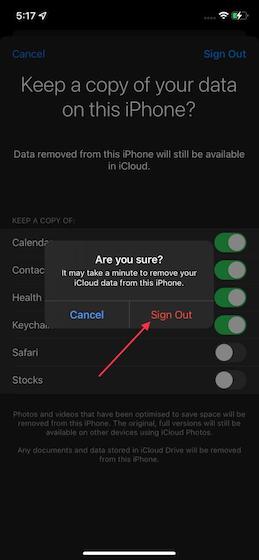 7. Once done, head back to the Settings app and choose the Sign In to your iPhone/iPad option. Following this, enter the new Apple ID and its password and hit Next in the upper right corner of the screen.
8. Once done, you will have to verify using 2FA (aka Two-Factor Authentication) code. Check out the message with the verification code on other devices and then enter it on your iPhone/iPad.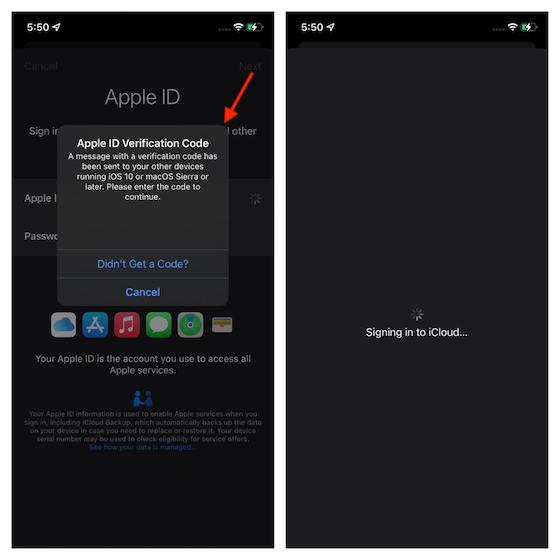 9. Now, you need to enter your device passcode to unlock the iPhone/iPad and also access saved passwords, as well as, other sensitive data stored on iCloud.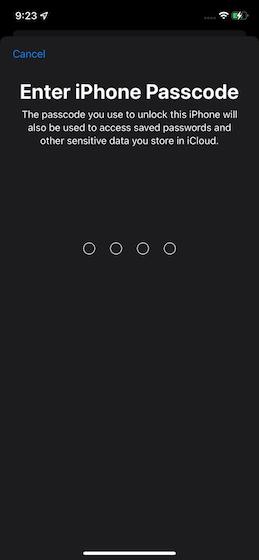 10. You will now get the option to merge the contacts on your device with iCloud. If you select the Merge option, your contacts and Safari data stored on this device will be uploaded and merged with iCloud.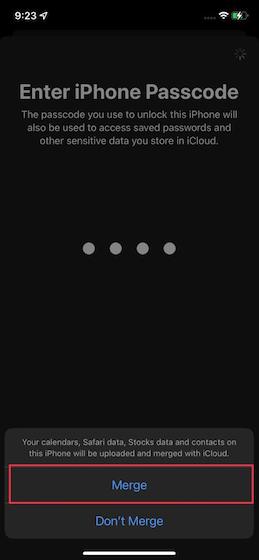 In addition to this, you can add multiple iCloud accounts for Contacts, Mail, Calendar, Notes, and Reminders apps for ease of usage. Just tap on any of the apps via the Settings, hit the Accounts option, select the Add Account option, select the iCloud option and type in your credentials, and you are good to go.
But What Happens to the Data?
Right now you may be wondering what happens to your data (including photos and videos) when you switch the iCloud account on your iPhone or iPad. This is a common concern and you should know that your data will remain safe. Apple provides a pretty reliable way to safeguard important data at the time of signing out of the Apple ID account. So, you need not worry about losing any data while switching your iCloud account on iOS. Depending on your needs, you can keep a copy of certain data on your iPhone or iPad. The list includes:
Calendars
Contacts
Health
Keychain
Safari
Stocks
FAQs
Can I transfer everything from one Apple ID to another?
Apart from the aforementioned data, there are chances that some data might go missing once you switch Apple IDs. For instance, all the photos and videos that you have optimized to save space will be removed from your iPhone/iPad. But, fret not. Your data will still be available on iCloud and you can easily restore it. Plus, the original photos/videos will still be available on other devices thanks to the iCloud Photos.
For those unfamiliar, iCloud Photos automatically stores your photos and videos on iCloud. It not only offers an additional layer of security to your photos but also provides seamless access to your photo library from any device. Apple removes all documents and data stored on iCloud Drive from your iOS/iPadOS device for extra security. If you haven't backed up your data, visit our guide on how to backup an iPhone via iCloud for a better understanding.
Can I change my Apple ID without losing my apps?
While the data remains safe, it won't be the case with apps. Apps downloaded when signed into an Apple ID won't be transferred to another Apple ID. But if you simply edit your Apple ID, apps and purchases made via it will remain there itself.
Will changing my Apple ID delete anything?
If you simply intend to change your Apple ID, your data won't go anywhere. But if you're switching to another Apple ID, some data will be removed from your device. Although, you can always restore it if saved on iCloud.
Securely Switch Apple ID Account on iPhone and iPad
That's pretty much it! So, that's the way you can use a different iCloud account on your iOS or iPadOS device. While Apple ID account switching may not be a one-tap affair, it is not tedious either. Furthermore, Apple offers a trusted way to secure your sensitive data so that you can change your Apple ID on your device without any pain. That said, do you have any questions or feedback related to this topic? If yes, share them in the comments.