Ahead of the annual Games Developer Conference this March, GDC released the results of its 2023 State of the Game survey, and there are plenty of stats that Switch owners might be interested in. This annual survey, which you can download from the GDC website, gives us an insight into the current state of the games industry.
For this year's survey, GDC spoke to over 2,300 game developers, and there are some interesting things to note. For one thing, more game developers are now working for independent studios rather than AAA. 39% of the developers surveyed currently work for an indie game company, while 23% work for an AAA developer. Most respondents have been in the industry for "10 years or less" – as many as 57%.
Looking specifically at Switch stats, the console is nearing its sixth birthday, and according to a survey by GDC, 35% of game developers are still interested in making games for the Switch. This is just behind the PlayStation 5 (46%) and PC (64%).
Of the 35%, 18% of respondents are currently making a game for the console. This puts the switch behind the Xbox One and the iOS and Android including all current consoles. The Switch has a fairly large selection of games coming out in 2023 from multiple indie and third-party developers, and while we don't know much beyond the summer, it looks like it's still going to be a good year for the console . Although some of the 18% could still be a year away.
The situation is similar with the console when it comes to the developers' next projects. According to the poll results, 19% of developers will work on a Switch game next, which again lags behind mobile platforms and current consoles. PC comes out again in these two polls – 65% of developers are currently developing a game for PC, while 57% will develop a PC game as their next project.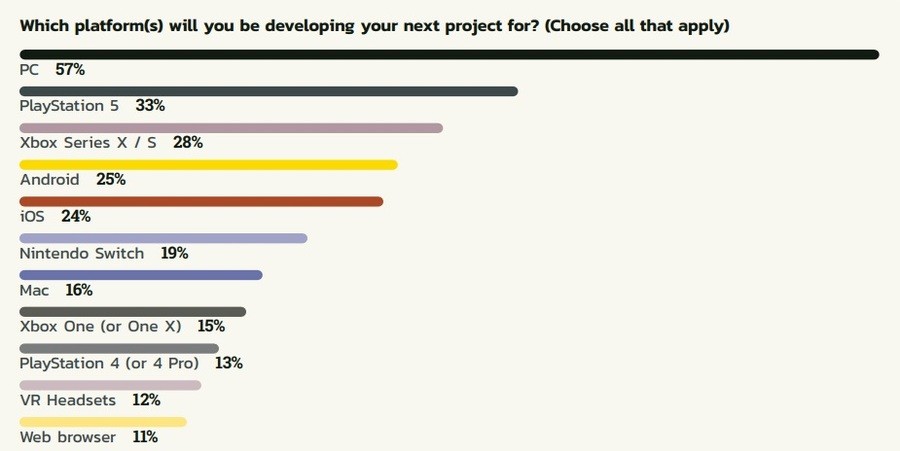 Other responses in the survey highlight some of the bigger talking points in the industry over the past 12 months. The Metaverse has been a dominant talking point, particularly with Fortnite and Minecraft working towards it. 45% of respondents believe the Metaverse just won't take off. And while companies like Square Enix have specialized in NFTs and blockchain, general interest in the technology hasn't grown over the past year. 75% of respondents have no interest in blockchain at all.
Over a page has been dedicated to improving accessibility in games – 37% of games currently in development have accessibility modes, while many focus on adding colorblind modes, remapping controls, subtitles and motion sickness settings.
Working hours and crunch culture remain a big issue, and the GDC survey shows that the majority of respondents (29%) say they work a 36-40 hour week, with many developers working past that – and 4% of respondents work more than 60 hours a week.